Planning
How far in advance should we plan our trip?
We recommend you start planning your Israel tour at least 4-6 months in advance to ensure the best prices and availability. The more time you have, the better – especially when dealing with larger groups. Contact us; we will walk you through the process.
We are ready to plan the trip. How do we start?
You will need to know the approximate travel dates for your tour of Israel. You will also need to know the approximate number of people going. Call us. We will plan, implement and manage everything in accordance with your needs so that you don't have to.
Is there a minimum or maximum number of people that we need to have in our group?
There is no maximum size. The more people traveling together the less expensive the per-person cost will be. The standard minimum group size is 12.
Does Living Bible Travel handle everything from airline ticket reservations to lodging, transportation and meals?
We handle everything listed in the itinerary for your group. This includes:
Arrangements for air transportation to and from Israel based on the selected US departure city,
Lodging,
Transportation and guides in Israel (and tips),
Admission tickets to all attractions and sites,
Transfers from airports,
Breakfasts and dinners, and related tips.
How long is an average visit?
The trip can be as long as you want it to last. Length of time really depends on your budget and what you want to do. Typical trips last on average, from seven to 10 days in Israel, plus two days of travel time to and from Israel, for a total of nine -12 days.
How much does a trip cost?
It is difficult to quote a price without knowing time of travel, number of people and itinerary. Please contact us and let us help you find a trip that fits your needs and your budget.
Do all travelers need a passport?
Yes, please make sure all those traveling with your group on a Living Bible Travel tour have their passports in order. Ordering and receiving a passport can take anywhere from three to six weeks. Check here for more information on obtaining or replacing a passport https://travel.state.gov/content/passports/en/passports/FAQs.html
Do I need a Visa to visit Israel?
No, U.S. citizens and citizens of most western countries need only a valid passport to visit Israel.
How do we get started?
It's simple. You, as the group leader should complete and submit the questionnaire on our contact page, or call us direct at: 1.847.564.1114. Once your group commits to the trip, we will work with you to create an exclusive website page for your group with sign up page and detailed group information.
Do I need any special vaccinations prior to leaving?
No. However, it is highly recommended that you are up-to-date on routine vaccines before your leave. These vaccines include the measles-mumps-rubella (MMR) vaccine, diphtheria-tetanus-pertussis vaccine, varicella (chickenpox) vaccine, polio vaccine and your yearly flu shot.
Do I need travel insurance?
Yes. We require everyone who participates in our tours to purchase travel insurance. Travel insurance is a cost-effective investment. It's a safeguard in case of medical emergencies overseas, if you must cancel last minute or if you are delayed overseas, or if your luggage is badly damaged. Several companies offer travel insurance including Travel Guard. You may contact Travel Guard at: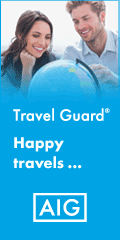 Of course, you may purchase travel insurance elsewhere. Whichever travel insurance company you use, travel insurance should be purchased within 10-20 days (depending on which travel insurance company you choose) of registering for your trip particularly if you want to purchase important coverage such as:
"Cancel for any reason",

"Cancel for work reasons", or

"Pre-existing medical conditions".
We require proof of travel insurance prior to issuing your final travel documents.
How much luggage can each person bring?
Please comply with the luggage requirements of the airline selected for your trip. Most airlines limit luggage to one large suitcase per person, a carry-on bag that fits in the overhead compartment and a personal bag that fits under the seat. Check with your airline for size and weight limitations (usually not to exceed 40-50 lbs). Airline restrictions vary. You may be charged a penalty for extra weight.
---
Packing Considerations
When packing, keep in mind that you will want to leave room for souvenirs
What clothes should I bring?
Clothing should be chosen for comfort and packing space. There is no need to pack formal clothing. To find out what the weather will be like, we recommend http://www.wunderground.com.
Dress in layers. It is a good idea to pack so that you can dress in layers to stay comfortable.
Closed-toe shoes. Bring a good pair of walking shoes that are already broken-in, for extensive walking.
Water shoes for walking and wading in the Dead Sea, and, if visited Hezekiah's Tunnel in Jerusalem.
Holy site dress codes: Some holy sites require men to cover their heads (any hat is fine) and everyone to cover their shoulders and knees.
Sunglasses and hats to protect yourself from the strong sun, even in winter.
What toiletries do I need?
Some hotels abroad do not furnish washcloths. If these are desired, please be sure to bring your own. Also, with regards to toiletries:
Pack toiletries in checked luggage to avoid potential conflict with carry-on luggage restrictions.
Bring travel-sized products to save space. It is best to pack liquids in screw-top bottles and store them in plastic bags in case they spill. The plastic bags will be useful later when packing wet bathing suits, washcloths or dirty shoes.
Bring a strong sun block.
Pack a few travel packets of laundry detergent.
---
Technology
Will I need an adapter for my electrical items?
Some hotels do not require adapters, but to be safe, bring an adapter and converter kit. An adapter (which changes the shape of the plug) and/or a converter (to change the electric current) may be necessary if you plan to use an electric appliance in any foreign country. Many European and Middle Eastern countries use 220 volts instead of the 120 used in the United States. Universal adapters and converters can be purchased at electronics and luggage stores or on Amazon.
Should I bring a cell phone? Can I use a smart phone in Israel?
Roaming costs overseas can be costly. We suggest you rent a cell phone or smart phone for use in Israel. If you choose to bring your own phone, check with your carrier to see if your U.S. cell-phone and/or handheld wireless device(s) are programmed for international service to Israel.
How do I access the Internet during the trip?
Almost every hotel has Internet access – in-room and/or Wi-Fi and/or at its business center. There are also plenty of Internet cafes throughout the major cities.
---
Medical
Is there protocol for bringing medication?
Bring enough medication to cover the length of your trip in a carry-on bag, unless it is liquid. Any liquid or spray medication should be placed in your checked baggage. If you must, carry no more than 3-ounces of liquid medication with your carry on luggage, as per airline restrictions. We also recommend, if possible, that you keep all medication in the original prescriptive container.
Check the INCB Guidelines if travelling with medications that are narcotics or psychotropics.
Be aware that many countries permit taking only a 30-day supply of certain medicines.
Carry a copy of your prescription, particularly for prescribed medicines that act on the Central Nervous System.
Carry the generic names of your medications with you, as a precaution. Pharmaceutical companies overseas may uses different brand names from those in North America.
What if I get sick while in Israel?
Please don't worry. If you become ill or injured your tour guide will ensure that you receive the appropriate medical resources.
---
Money: Spending and Refunding
Can I use my credit cards in Israel?
All major credit cards are accepted in Israel, except for Discover. Most credit card companies charge an international transaction fee. If you bring a credit card, we recommend that you call your credit card company in advance to find out what its transaction fees are, so that you won't be surprised.
Many places will take U.S. currency. Oftentimes, paying cash can reduce souvenir prices. Also, please do not open your wallet next to street vendors, just to be safe. We recommend keeping a small amount of cash in your pocket for purchases from street vendors.
What is Israel's currency?
Israel's currency is the New Israeli Shekel (NIS).  The exchange rate to the dollar varies. Recent market values have averaged between 3.5NIS/$1 to 3.7NIS/$1.
The "change points" in Israel are regulated and tend to be competitive. Check the rates online, prior to leaving for your trip. You can go to the XE currency converter for daily updates on exchange rates.
If one of our members cancels, will his/her deposit be refunded? If the group cancels, will all deposits be refunded?
TBD
* Ordinarily, it takes eight to 10 weeks to process and pay a refund.
If I leave the tour and later rejoin it, will Living Bible Travel refund the unused portion?
There are no refunds for any unused portion of the tour once travel begins. In addition, Living Bible Travel is not responsible for cancellation, or change penalties and fees imposed by the airlines if you change your itinerary.
Are there reduced rates for children?
No, our rates are competitive and fair. To maintain those we must charge the same on a per-person basis.
Do I have to tip the driver or tour guide?
No, these tips are included in your cost. However, if you wish to show additional appreciation, you are more than welcome to make an individual tip. If you go out to eat or take an excursion that is not included in the Living Bible Travel itinerary, then you will have to pay the respective fees and tips for that activity.
Note: Many tour companies do not include these tips in their pricing structures. We include tips for the meals that are included in your itinerary, and to the tour motor coach driver and tour guide as a convenience to you.
---
We're Here, Now What?
Is it safe?
Israel is extremely safe. It has less crime and far less violence than in the U.S. For more information on safety and security in Israel, please go to our Safety section.
Tell me about the hotels, guides and group transportation
Hotels. We work in partnership with top-grade, highly experienced and reliable land operator tour companies in Israel that make and coordinate all of these arrangements on our behalf. Our offerings range from five star hotels to clean, safe, well-located hotels with common amenities. All hotels have private bath, TV, Wi-Fi and a phone. Some, not all, will have irons and hair dryers. If these items are not in the room, check with the front desk. If you tour group chooses a Kibbutz stay that will have a different set of amenities than the hotels.
Guides. All guides speak English and some speak other major languages as well. Our guides are licensed, highly trained and passionate about sharing an "insiders" view of the sites you visit along with the differing customs and cultures.
Transportation. We use motor coaches or mini buses depending on size of the group. All vehicles are considered deluxe vehicles with air conditioning and/or heat (unless otherwise stated).
What documents are we required to have with us while traveling?
We recommend that you make a photocopy of the first page of your passport prior to your trip to carry with you at all times, and keep your passport in a locked hotel safe during the day while touring. You will also need photocopies of any medical prescriptions.
What happens if I miss the bus at anytime?
While we count every participant in our tours before departing any hotel or site that the group visits, each traveler must take personal responsibility to be on the bus at the agreed upon times. Guests who choose to remain at a location beyond agreed departure times may have to arrange their own transportation to return to the hotel or catch up with the group.
What happens if I lose something valuable during a tour?
Loss of valuables is always unfortunate, especially when traveling. We require all of our travelers to buy travel insurance. Many good policies cover losses while traveling. When selecting a travel insurance policy from Travel Guard or any other provider, select the coverage that best meets your needs.
Separately, if you rent a smart or cell phone for use in Israel we recommend that you buy loss insurance for that as well.
Will we have any free time to do what we want?
Yes, there will be time to relax and explore on your own, particularly in the evenings. When we work with clients on an itinerary, we always suggest that they leave time for their group members to investigate independently. There is so much to see and do in Israel, and people have different ideas and passions.  Free time allows group members time to themselves. Many of our guests like to shop on their own time. Costs incurred during free time are not included in the tour package price.
Does everything throughout Israel shut down for the Sabbath?
The holy Sabbath is observed throughout Israel from just before sunset on Friday to just after dark on Saturday. The significance of the Sabbath has a major impact on the Israeli week and weekend; it is a time dedicated to religious contemplation, taking stock of our daily grind and for meaningful interaction with family and friends. Many shops, museums, tourist attractions and restaurants – particularly in Jerusalem – are closed on the Sabbath.
---
Photo at top of page: Capernaum Synagogue (Capernaum, Israel)